Photogallery rendered here.
Real estate agents say location is everything. Vignerons say the same thing. Our two estate properties, Sobremesa Vineyard and Stolen Horse Vineyard, are located 62 miles apart from each other in the Uco Valley. The vineyards are part of the Maipú region within the world-reknowned Mendoza appellation of Argentina. Mendoza is responsible for nearly 70% of Argentina's wine grape production. The country's main varietals are Cabernet Sauvignon, Chardonnay and most famously, Malbec with smaller amounts of Merlot, Torrontes and others. The climate is desert-like, caused by dry winds sweeping down from the Andes mountains into the valley. The region is uniquely known for having vineyards planted at some of the highest altitudes in the world; on average, vines are planted between 1,970-3,610 feet above sea level.
All of the fruit used for our Argentine wines are from our Sobremesa Vineyard and Stolen Horse Vineyard. We grow nine varietals: Sobremesa Vineyard is planted with Malbec, Merlot, Cabernet Franc, Petit Verdot, Viognier, Roussanne, Marsanne, and Sauvignon Blanc, and the Stolen Horse Vineyard is planted with old vine Malbec. As of 2010, over 16,000 vineyards were registered in Mendoza with 381,071 acres (154,214 hectares) planted. Argentina as a whole is the fifth largest producer of wine in the world.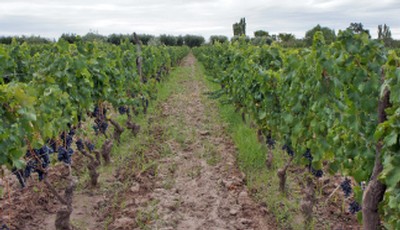 SOBREMESA VINEYARD
Sobremesa Vineyard, established in 2007, is positioned 3,445 feet above sea level in the shadows of the tree-barren Andes range. Sobremesa Vineyard is chock full of deep gravel beds, mixed with smaller fractions of clay, lime, sand and rocks with good structure and perfect water drainage.
Our estate vineyard was first planted with the following varietals:
Malbec, 15.1 acres
Merlot, 11.22 acres
Cabernet Franc, 11.43 acres
Viognier, 5 acres
Roussanne, 2 acres
Marsanne, 2 acres
Sauvignon Blanc, 1 acre
Another 4.25 acres (1.7 hectares) is scheduled for planting in 2013 - 2014. In addition, we also have 6.75 acres (2.7 hectares) of Syrah planted next to Sobremesa Vineyard, yet to be named.
We utilize modified vertical-shoot positioned trellising in our vineyards and shoot-thin to achieve perfect fruit to shoot ratio, resulting in approximately 1.8 tons to the acre.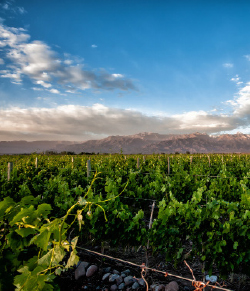 STOLEN HORSE VINEYARD
Located in the Cruz de Piedra area of the Maipú region, Stolen Horse Vineyard was planted in 1922 with 8 acres (3.2 hectares) of old vine Malbec. Its elevation is 2,887 ft.
Its topography consists of topsoil mixed with fine fractions of clay, lime & sand brought in with the irrigation water during the last 80 years, over deep gravel beds. Large rocks that were originally part of the vineyard were removed because their heat retention during the day were not needed. The vineyard is still furrow-irrigated and plowed by horse, just the way it was 90 years ago.
Stolen Horse produces very focused fruit, which is achieved with its old age. The fruiting zone is lower in Stolen Horse Vineyard compared to vineyard sites in Washington State, mostly for practical and physical purposes.

Stolen Horse Vineyard does not naturally produce prolific grapes, but winemaker Santiago Achával still ensures to thin the shoots to maximize sunlight and exposure per leaf to maximize the flavor profile in the berries, and to achieve perfect fruit to shoot ratio, resulting in approximately 1.2 tons to the acre.